June 20, 2017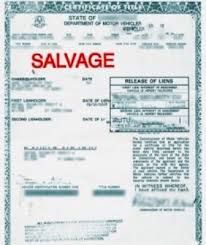 What is a Vehicle with a Branded or Salvaged Title Worth?
On the market of used cars today, there are a lot of branded/salvaged title vehicles for sale, generally in the privately owned market. The general rule is that if a vehicle has a branded/salvaged title it has a value of about 50% of what that vehicle with a clean title would be worth.
When a vehicle has a branded/salvaged title this means that the damage to vehicle has an estimate of repairs that exceed the value of the vehicle. The insurance companies have a threshold of repair costs to vehicle value, sometimes it is not at a complete 100% of repair costs to value and they will still consider a vehicle totaled. Depending on the value of the vehicle prior to the damage if it has a branded/salvaged title, you can figure that the proper repair costs were 80% to 100% of the vehicle value.
So is this type of vehicle a good choice for a consumer to purchase? Let's use the example of a vehicle that is worth $10,000 with a clean title; it is for sale for $5,000 due to the branded title which seems like a great value. But really what that means is that this vehicle sustained damage in the amount of approximately $8,000 to $10,000 and that is pretty substantial damage. While visually the repairs may look o.k. , the integrity and safety of the vehicle can be in a compromised state.
Issues with Branded or Salvaged Titles
Some of the issues that you can have with a branded or salvaged title include:
Crumple/Crush Zones
These are are typically built into the frame structure of the vehicle to protect the occupants of the cabin in the event of a serious impact. They are designed to absorb the impact instead of transferring it. They are a single use crumple/zone, and are not able to be repaired or, even if stretched, it causes metal fatigue, and will not be able to perform again as intended.
Electrical Issues
The wiring of a vehicle can be compromised and can cause increased chance of car fires in the future of the vehicle. As a shop, we have seen several car fires that were caused by wiring chafing inside of panels and through the fire wall of the vehicle that could not be seen as a problem ahead of time to repair. These vehicles all had salvaged/branded titles.
Wheel and Suspension Alignment once a vehicle has been structurally damaged it may not be possible to get the vehicle aligned back up properly. Some of todays vehicles have a unibody frame and depending on the damage that occurred it may not be possible to get it completely straight again.
Safety Equipment
Not all rebuilders replace all the safety equipment that was damaged in a collision. The airbags in a vehicle are expensive and are the #1 item that are not replaced with proper equipment once they are deployed.
Should I Purchase a Used Car with a Salvaged or Branded Title?
These are just some of the more common issues that can be seen with salvaged or branded title vehicles. We would recommend that for the most part steering clear of branded or salvage title vehicles, for your own safety and the reliability of the vehicle. We recommend whenever you decide to purchase a used vehicle to have it inspected by a qualified technician at your trusted repair facility. This will help to catch most issues with a vehicle, safeguarding you from making a poor purchase choice.
All About Automotive is Your Automotive Repair Expert in Gresham
Steve and Karen Johnston are owners of All About Automotive, providing auto repair and auto maintenance in Historic Downtown Gresham. If you have questions or comments, call them at 503-465-2926 or email them at [email protected], you can also visit our website at allaboutautomotive.com.
Posted in